TRIP FACTS
Tour type: Cross-Country skiing expedition
Duration: 8 days - 7 nights
Skiing per day: 6 - 8 hours
Group size: Min. 5 - Max. 12
Accommodation: Tent and House in Kulusuk
Language: English and French
Departures/Meeting point: March and April/Keflavik International Airport
Do you want a private departure of this trip? Contact Us or send an email to info@arctichiking.gl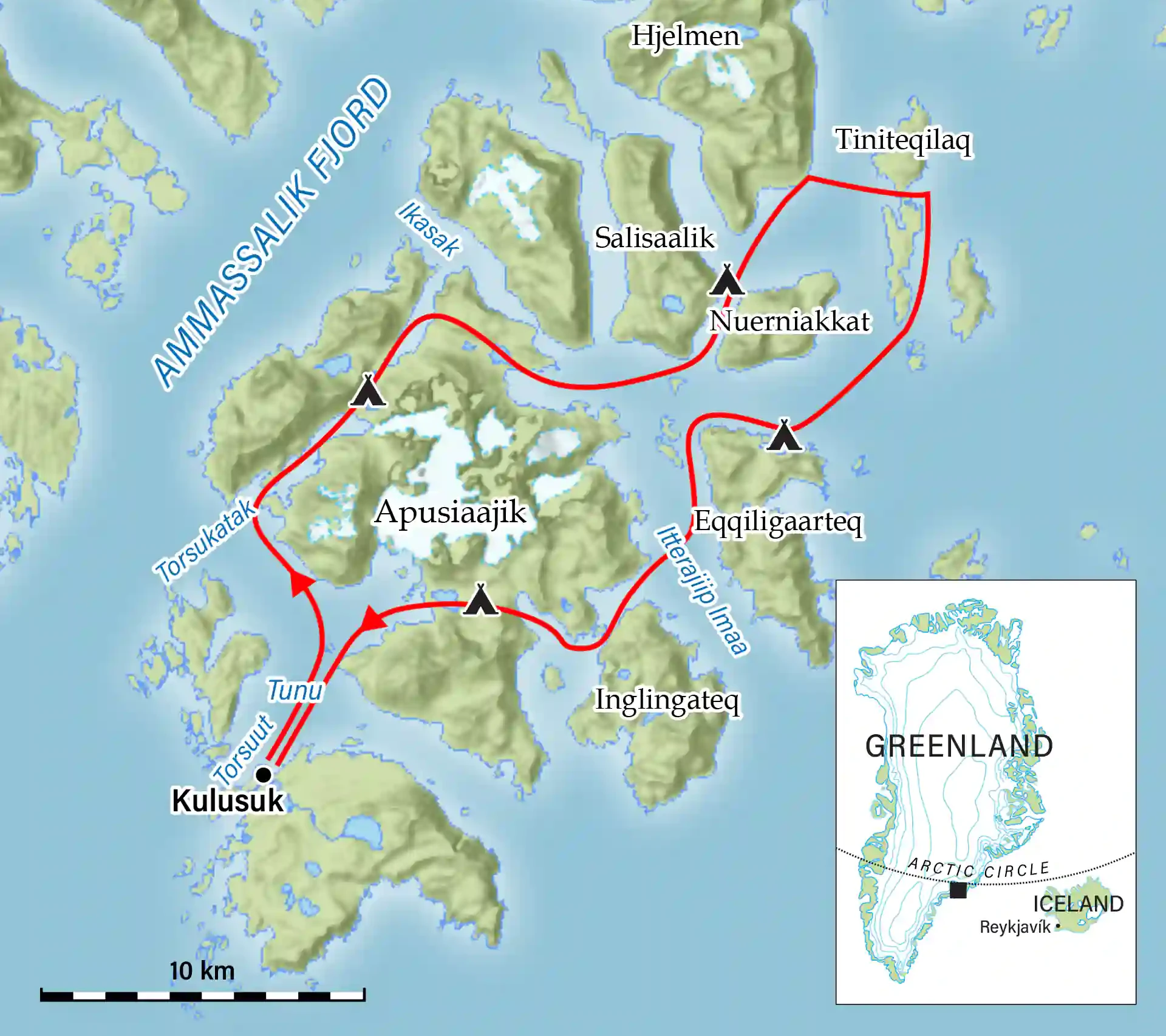 HIGHLIGHTS OF TOUR
Magnificent fjords with mountain walls rising 800 meters above
A one-of-a-kind expedition on the ocean ice from island to island
Introduction to Inuit culture in the Winter isolation.
East Greenland Islands Expedition
The spectacular snow and ice covered landscape of eastern Greenland is the setting for this short expedition from Kulusuk Island, around Apusiaajik Island, and to the islands north of Apusiaajik.
Carved by glaciers, the terrain is crowned with magnificent peaks, and deep fjords dotted with giant icebergs trapped in the pack ice.
Itinerary
Day 1 : Reykjavik/(Keflavik airport) – Kulusuk
Flight from Keflavík international airport to Kulusuk in East Greenland. We land in Greenland at 17:00 (5 pm) local time. We have arrived to a completely different world, the world of Polar Winter. We put our skis on at the airport terminal and head for the village of Kulusuk which is 3 km from the airport. Dinner in our warm house in Kulusuk.
Day 2 : Torsukatak fjord
The day starts at the heart of the village, the grocery store, to complete our food provisions. We then leave the village and cross the Torsut Tuno fjord before entering the narrow Torsukatak fjord, 5 kilometers long and only 300 to 600 meters wide, bordered by steep mountain walls reaching 850 meters in height! We cross a pass and descend towards the Ikasak fjord, where we set up camp in a small bay. 7 to 8 hours of skiing.
Day 3 : Passage north of Apusiaajik towards the island of Nuerniakkat
We ski across a small pass on the North coast of Apusiaajik, followed by a small lake before skiing along a small fjord. Then passage in a narrow strait between Nuerniakkat and Salisaatik where we set up camp. 7 hours of skiing.
Day 4 : Hjelmen (the "Helmet") and the island of Tiniteqilaq
We ski at the foot of the mountain called the "Helmet" which is crowned by a small glacier. We turn South towards Tiniteqilaaq Island and cross the island to a small strait, where many icebergs strand. To the North, we enjoy view to mountains over 1700 meters high on the edge of the sea. We set up camp towards the small bay north of an island called Eqqgiligaarteq. 7 to 8 hours of skiing.
Day 5 : From island to island
We cross the Itterajiip Imaa fjord before passing through a channel between two islands, Inglingateq and Apusiaajik where we set up camp near the Apusiajik glacier. 7 to 8 hours of skiing.
Day 6 : Kulusuk
On our return to Kulusuk impressive mountains rise directly from the sea up to 800 meters. We pass again to Tunu, where we find dog sled tracks which lead us to Kulusuk, the village of Inuit hunters. Accommodation in a local house for two nights. 6 hours of skiing.
Day 7 : Kulusuk
We leave our belongings in the house in Kulusuk and set off with a light backpack for a nice tour of the island. A dog sled tour with Inuit hunters is an option.
(This day can be used as a reserve day in case of delays in the previous days.)
Day 8 : Kulusuk - Reykjavik
We use the morning to discover the village and the surrounding hills. Last good lunch in our house, in Kulusuk before skiing back to the Airport to catch the return flight to Keflavik airport. Departure from Greenland in the late afternoon, arriving to Keflavik at 21:30 (9:30 pm).
Accommodation
Three nights in a local house (dormitory), in Kulusuk.
Other nights in tents (2-3 people per tent).
Meals
Noon: picnic.
Morning and evening: meals mainly based on freeze-dried dishes.
Included in price:
All ground transfers necessary for the normal running of the program. Food throughout the trip. Accommodation as described in the program (3 nights in a local house (dormitory), other nights in tents). Supply of collective equipment (tents, kitchen equipment, etc.). Supply of a pulka (small light sled) per participant. English/French-speaking guide. First-aid kit. Satellite phone in case of emergencies.
Not included in price:
Alcoholic beverages, flights to/from Greenland, ski rental,other personal expenses.
Cancellation / interruption of stay / loss of luggage and assistance insurance. Everything not mentioned in "Included in Price".
Flights from Keflavik can be added. Price for a flight from 820€.